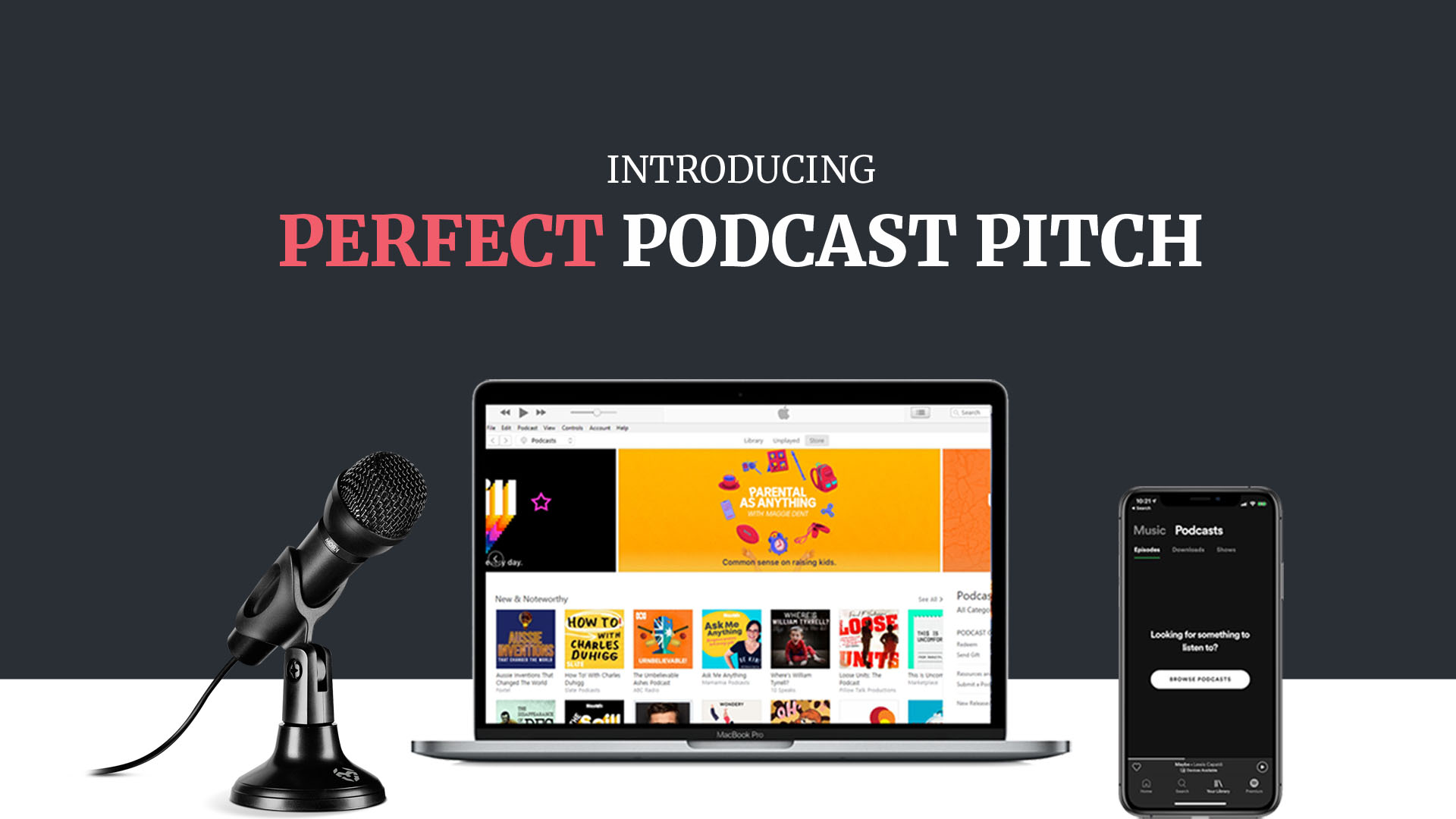 Perfect Podcast Pitch is our step-by-step process to find podcasts, pitch them successfully, and record kick ass shows
It's designed to help you side step common mistakes so you're no longer ignored, rejected or forced to 'pay to play'
How?
Because we focus on 3 key things...
How Is Perfect Podcast Pitch Different To Other Programs?
Perfect Podcast Pitch isn't just about 'pitching as many shows as possible'
If you wanted to do that?
You could simply buy some dodgy internet tool, scrape every podcasts email address and shotgun email your pitch...
BANG!
Your done in seconds but guess what?
So are all the opportunities and relationships
(It's weird but people don't appreciate random cold copy and paste emails…)

Me personally?
If someone spam pitches our blog I simply scroll to spam and block all future emails
(They don't even get a 2nd chance)

That's why Perfect Podcast Pitch focuses on 3 core areas...
#1: Get Inside Their Heads
Want to sell anything to anyone?
It's not hard
You simply find out what they want, and show how what you have, makes that happen
Easy right?
But the thing is, most programs teach you 'hack's'
A flaw in a system that works this week, but not the next
By the time you come to implement it?
Its been fixed and no longer works- so you bounce through hoops chasing hack after hack…
So at the end?
Your still where you started
(And that sucks)
Perfect Podcast Pitch is based on old school marketing principles
None of those 'work today, broke tomorrow hacks
Instead you'll learn the psychology, research and approach to be able to get results
Why care?
Because no matter the platform- you'll be able to find that connection, reach out, and be a kick ass guest!
Now AND in the future...
#2 Structured Delivery And Process
It's not enough to know what drives people
You also need to know how to communicate with them
Why?
Well… people are weird
Let me explain:
We can know all the information about our audience
Their pains and desires
What they want
What they need
Heck… we can even have the perfect product for them
But if we don't say the right things at the right time, and in the right order?
Splat
Our pitch fails
Why is this?
Well without getting too nerdy, its because of how our brain processes information
You see, our brain has 3 levels to it:
The Lizard brain
The Limbic Brain, and
The Neo- Cortex
All information starts at the lizard brain, and that's where the problem starts
Why?
Because the Lizard brain is based on desires and fears
Its not logical but emotional
Why care?

Because if you fail to speak to this first, then its just like that email headline…
The information simply doesn't get opened or move forward
(Not great right?)
Well even when you get past that, you're still not talking to people logically

After the Lizard brain pays attention, it moves the information into the Limbic brain
This controls our previous experiences and behavior
This is why it's vital to learn your audiences own experiences, pains and goals
Why?
Because if we can't speak to this, then people don't lose interest

Finally we have the Neo-Cortex
This is the actual, logical decision maker
This is the person who'll say yes (or at least think about it)

This is why you need to understand how to structure your information
Because if you don't?
Then you can have the best pitch or product and still not move forward
Which is why we build this structure into the templates we use for pitching
Its not a blank copy and paste
But it is ticking boxes and hitting the right triggers in the right order

A psychological structure to get them to pay attention, keep reading, take action and get you on their show...
(And don't worry- its easier then it sounds)

#3 How To Stand Out In Front Of Their Audience
(So They Become YOUR Audience…)
So here's a nice little bonus
Rather than just show you how to get on these podcasts, we take it a step further
Why?
Because getting in front of people is great, but better still?
Is when you stand out and their audience becomes yours also
That's how you fully leverage podcasts
Not only that?
But we'll show you how to be stand out guest also!
Why care?

Because this way the hosts will recommend you for other shows- without you even asking them to
Pretty good right!?
Perfect Podcast Pitch Teaches You EXACTLY What You Need To Start Booking Shows TODAY

Want to know whats inside?
Here's a sneak peek...

How to organize your research to build a foundation of success
The 4 filter system to find the hidden podcast gems in your industry
How to research your host, get in their head and find the right angle
How to avoid the ignore button before you even start…
The tools of the trade to record, automate and track your pitches and podcast episodes
How to write headlines that get past the gatekeeper
How to hook them in and build trust FAST
How to make it so simple for them to say 'YES!'
How to automate your approach in a non-sleazy way
The 3 'P's' Of Perfect Podcasting
How to cover your ass and keep that episode
How to be the perfect podcast guest
How to get links, where and when you want them
The structure to deliver the perfect pitch
And much more!...